Tokyo Stroll Supplement: Omotesandō / Harajuku Area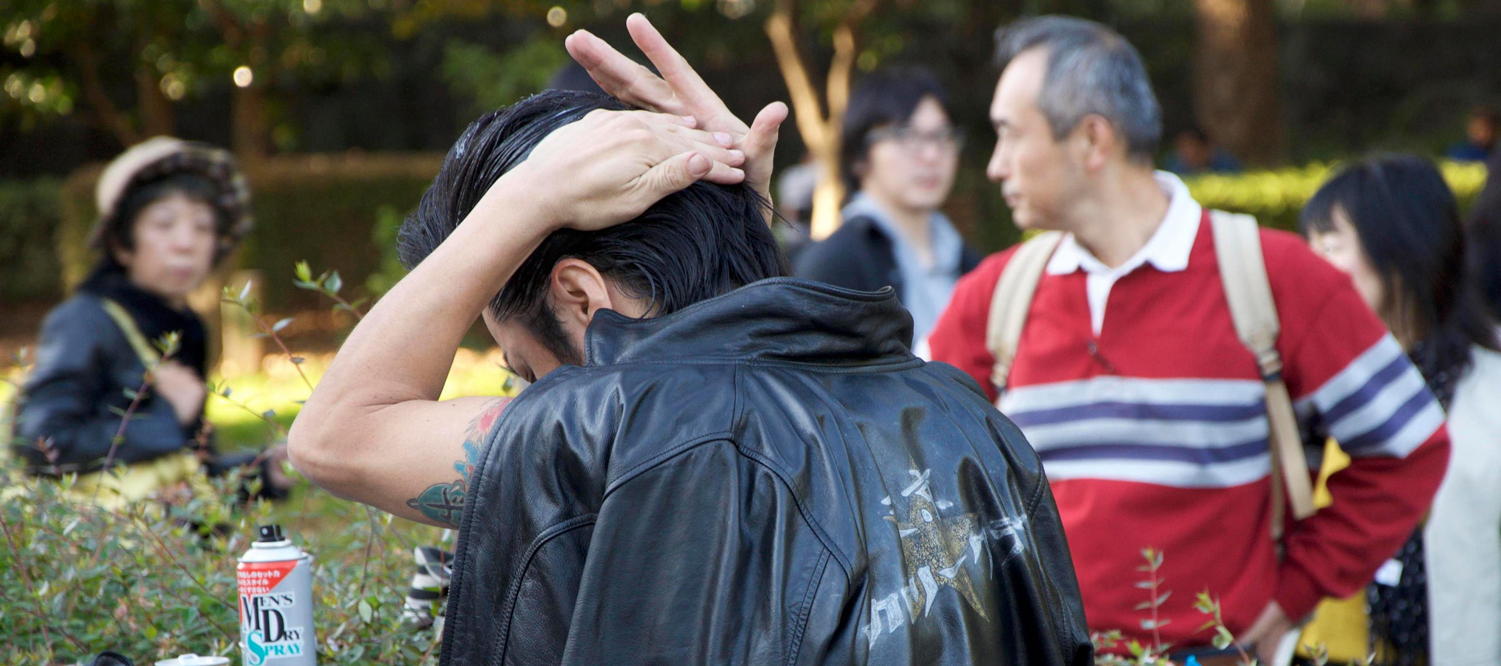 This page is for corrections and additions to the Omotesandō / Harajuku Area chapter of Tokyo Stroll. Updates will be announced on my blog.
Corrections:
Additions:
Barbershop 8
Opened in 1971, before the famous Yoyogi Park Rollers came on the scene, and originally on Takeshita Street this small barbershop is now located on a side street north-east of Harajuku and east of Togo Jinja and the Harajuku Police Station. This is a great place for men and boys to get their hair styled like a rockabilly star. Once you have your pompadour you will need some pomade, a good place to get that is at Jumpin' Jack's which you will find listed further down on this page.
You will probably have to hunt a little to find Barbershop 8 as the narrow street the shop is on starts a block east of Meiji Dōri where it intersects Harajuku Street. Also don't confuse it with the salon EIGHT harajuku which is south of Togo Jinja.

The Iceberg (アイスバーグ)
Designed by Creative Designers International and opened in 2006 it is easy to see how this building got the nickname "The Iceberg" from its angular and asymmetrical structure of blue glass. The structure has quite the contrast with its neighbors which are slightly shorter flat boxy buildings. Formerly called the Audi Forum it is longer used by Audi. Originally this was not only an auto dealership but also an exhibit hall for the history of Audi, the company's Japanese HQ, a restaurant and an events hall known for its concerts. Today the building is operated by the U.S company WeWork which rents shared office space.
Jumpin' Jack's (aka Harajuku Jack's)
Do you love Rockabilly? This is a store for you to check out. Founded in 1994 the selection ranges from bags to watches and everything in between. New and vintage clothing for men or women, accessories, pomade in various scents, recorded music (CD and vinyl) many of contemporary Japanese performers, jewelry, etc. If reading is more your style pick up some issues of Grease Up Magazine. When you are near the shop look up as it is on the second story of the building.
NOTES:
The owner, Elovis Sato, speaks English.
The store shows up in the James Partridge's documentary video Tokyo Rockabilly.
WEB:
Website:
http://www.jacks.jp
Online Store:
http://jumpin.jacks.jp
Facebook:
https://www.facebook.com/harajuku.jacks/
YouTube: https://www.youtube.com/channel/UCNI0IoOgCuNkidyhRe4xUQA
SunnyHills (サニーヒルズ)
Designed by noted architect Kuma Kengo for the noted Taiwanese bakery and opened in 2013. This is a three-story building encased in a mesh of wooden beams constructed with traditional joinery, no nails. The structure alone may make you want to check it out. However if you have an urge for cake, especially an urge for delicious pineapple cake you have an extra reason to visit this location. What makes it especially interesting is that if you go in they will seat you in their tasting area. You will then be served complementary pineapple cake and tea without asking. Their cake is shaped like a brick with a pineapple filling. This is of course to encourage you to buy a box of cake to take with you. Now think, you could easily get a package and enjoy it yourself, or perhaps share it with the staff of where you are staying. But don't stop there, check out the rest of the building, even the restrooms are interesting.
WEB: https://www.sunnyhills.com.tw/index/ja-jp/
Created July 10, 2919 | Content last updated May 10, 2019